Increasingly popular gabions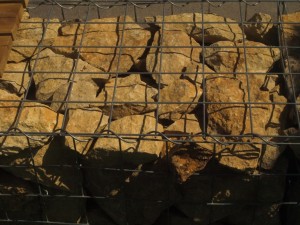 Today, gabions are gaining prominence due to their multifunctionality. These are the so-called modern building structures, which we see more and more often in our surroundings. Modern times demand fast building and construction procedures, and gabions fully meet this requirement.
What are gabions?
Let's look for the origin of this word in Italian, where gabbione means cage or big basket. Gabions are really baskets made of welded or knitted steel nets. Then stones of different sizes and shapes are filled in. However, they can also be filled with paving blocks, slate slabs, wooden blocks, coarse gravel and, in certain circumstances, clay or sand. However, they can also remain empty. When using loose materials such as clay or sand, the gabions are first coated on the inside with a non-woven fabric.
What is its function?
They can be used as a basis for stable benches, instead of a fence or wall around the land, in sloping terrain to level them, to surround flower beds, as a reinforcing element of terrain and they are also placed in riverbeds and reservoirs. In addition to the stabilizing and safety function, gabions perform a decorative function, they can be greened. Their use does not burden the natural environment, it is simple and fast. Due to the dry assembly, their constructions can be realized at any time of the year. Gabions are water permeable, and although we might not expect that, they also have great sound absorption.
Offered assortment
The basic assortment usually offered is nets with square meshes 10 x 10 cm, or with rectangular meshes 10 x 5 cm made of wire with a diameter of 4 mm. Companies usually satisfy customers whose requirements are in non-standard dimensions. We can also come across circular wire baskets, or gabions open at the top, etc. The wire is surface treated with an alloy of 95% zinc and 5% aluminum (so-called Galfan). This surface treatment guarantees gabions a longer service life than just galvanizing. The degree of protection can be further increased by plastic coating.
Laying gabions
Landscaping must be done before the laying itself begins. The surface must be compacted or the foundation joints must be leveled to the specified size. An inclined foundation joint is most often used, in a ratio of 1:10. Inside the gabions there are buckles that protect the front wall of the gabions from bulging. The networks themselves are then connected by spirals. The assembly wire is then an aid to creating the desired shapes. Filled gabions have a huge weight, and therefore it is necessary to ensure their statics and supervision of geotechnics.
What to plant on them
Gabions can be planted from the top and side. For example, ivy or parthenocissus (Virginia creeper) can creep on them, and various types of houseleeks or other undemanding rock plants suitable for dry walls, can be placed in the upper part or between the stones. Creeping plants use wire mesh as a support structure for their wrapping stems or tendrils. They look very nice, at least partially overgrown with Bignonia.
Text a foto: Zuzana Bohdalová
Source: moje-bydleni.com