Kitchen stone worktops and tiles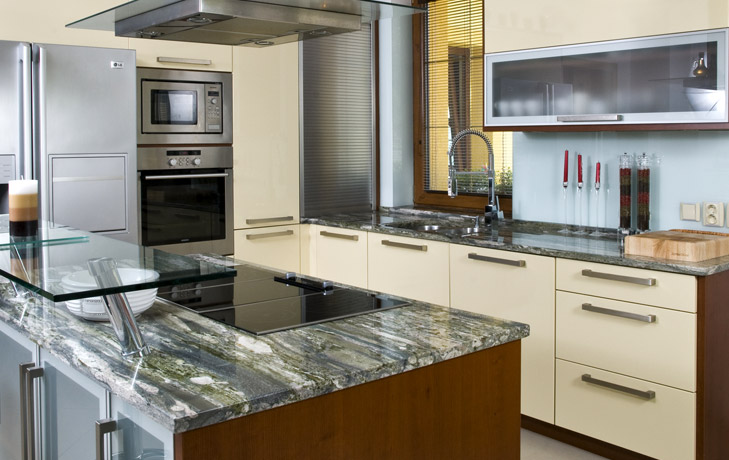 The trend of natural materials consists in not only natural beauty, but also in many practical utility properties. Stone is one of the natural materials also used in kitchens. Not only does it provide original and unique beauty there, but thanks to its technical parametres it also provides great help for everyday work in the kitchen.
Stone is a timeless, but relatively expensive investment in the interior. In addition to its characteristic appearance, we also get a durable material we can use, for example, in the kitchen.
Stone kitchen worktop
Durability and longevity are essential characteristic features of stone in kitchens. When choosing a specific kind of stone, we follow its maintenance requirements and look.
I want stone in the kitchen
Whether we plan a kitchen worktop or tiling a specific area, we need measures of the area. According to the selected type of stone, we obtain a rough calculation. The final price is further specified on the spot after precise measuring. Production and assembly on the agreed term are the next steps.
How to care for stone in the kitchen?
Natural stone requires almost no care, nevertheless, it depends on the stone selected. Warm water with a bit of detergent is enough for washing. Although stone is impregnated after processing, it is recommended to repeat the impregnation of some kinds after approximately three years.
When cleaning stone, we should avoid chemicals that remove scale. Sand and similar agents can also cause scratches and damage.
Appearance
A kitchen worktop, or a chosen stone tiling, naturally becomes the dominant surface in the kitchen. Stone offers colourful tones and a wealth of subtle harmonic shades. Lots of manufacturers offer artificially made stone, whose books of samples can be a good inspiration. Thanks to interesting additives, materials acquire unmistakable appearance. Furthermore, we can choose from a huge range of colour combinations.
What to choose from?
Particular types of stone differ in their properties which correspond to their way of use. Therefore, it is necessary to consult an expert about choosing the stone. Granite is a safe bet thanks to its high hardness, durability and low water absorption. It is able to stand challenging operation and high temperatures in the kitchen without any problems.
Marble is another material that can be used for a kitchen worktop. However, it is not completely recommended for its softness and greater absorbency compared to granite. The end customer has to approach this material very carefully, i.e. no cutting directly on it, paying attention to preventing mechanical damage, etc. In order to make the surface mechanically more resistant, the polished surface can be changed into a different modification (patinato). Absorption can be partially prevented by high-quality impregnation which, however, is not one hundred percent certain. Therefore, it is recommended to keep the marble slab clean at all times and to wash immediately in case of spilling wine, oil and so on.
Sandstone has also become a popular material for interior tiling due to its easy workability. It also allows for more rugged surface shaping and has pleasant warm shades of colours.
Source: www.ceskestavby.cz